By 
Diane Farr
, Special to CNN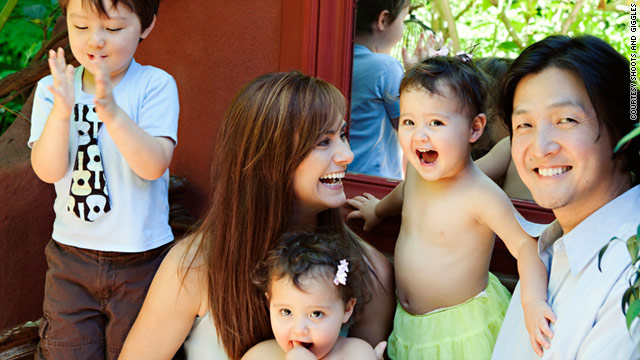 Actress Diane Farr poses for a family portrait with her husband, Seung Yong, and their three children.
Editor's note: CNN's Defining America project is exploring the stories behind the numbers to show how places are changing. This week, get to know more about your neighbors all across the country — how they live and love, what they believe in and how they came to call themselves Americans. The week will culminate with a Secret Supper in New York City, and Eatocracy invites you to participate online starting Monday July 11th at 6:30 p.m. ET. Diane Farr is most known for her work as an actress on "Californication", "Numb3rs" and "Rescue Me." Her second book, "Kissing Outside The Lines" has just been released.
(CNN) — I fell for "The Giant Korean" at a weekend-long destination wedding. I couldn't yet pronounce either of his real names (Seung or Yong) and although his friends called him "Sing," I stuck with the catch phrase my girlfriends and I had coined the first time I met him because, frankly, my nickname captured his presence better.
I had come around to a slight Americanization of his real name by the first time we exchanged "I love yous," but it seemed of little consequence when Seung then added that I would never be welcome in his family's home. Seung had been told, all his life, more or less, that he was not allowed to marry someone like me.
Pronunciation aside, it hadn't occurred to me that Seung and I made a mismatched couple. Mixed-race yes, but I couldn't fathom that my race could make me the "wrong kind of girl" for anyone.
Yes, it was white privilege that blinded me to the fact I might be the bottom of the barrel on someone else's race card.